ARTI - GUARD POWDER - 1 Bag x 14 oz.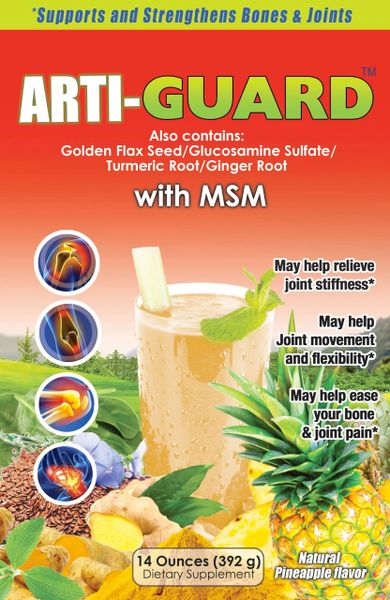 ARTI - GUARD POWDER - 1 Bag x 14 oz.
Research hasn't always kept pace with the popularity of supplements. But more natural medicines are being put to the test in well-designed clinical trials. Here are some of the ingredients in our product that are backed by science and shown to be effective in the treatment of rheumatoid arthritis (RA), osteoarthritis (OA) and arthritis-related conditions.
Tumeric/Curcumin (Curcuma longa)
How it works: Curcumin is the chemical in turmeric that can reduce joint pain and swelling by blocking inflammatory cytokines and enzymes. A 2010 clinical trial using a turmeric supplement showed long-term improvement in pain and function in patients with knee OA. A small 2012 study using a curcumin product, BCM-95, showed more reduced joint pain and swelling in patients with active RA when compared to diclofenac sodium.
Best for: osteoarthritis
Also used for: rheumatoid arthritis
Omega-3 fatty acids - FLAX SEEDS

How it works: Omega-3s block inflammatory cytokines and prostaglandins, and are converted by the body into powerful anti-inflammatory chemicals called resolvins. EPA and DHA have been extensively studied for RA and dozens of other inflammatory conditions. A 2010 meta-analysis found that fish oil significantly decreased joint tenderness and stiffness in RA patients and reduced or eliminated NSAID use.
Best for: rheumatoid arthritis
Also used for: osteoarthritis, Sjögren's syndrome
Ginger (Zingiber officinale)
How it works: Ginger has been shown to have anti-inflammatory properties similar to ibuprofen and COX-2 inhibitors. In a 2012 study, a specialized ginger extract reduced inflammatory reactions in RA as effectively as steroids did. Earlier studies showed that taking a certain extract four times daily reduced osteoarthritis pain in the knee after three months of treatment, and another taken twice daily worked about as well as ibuprofen taken three times daily for hip and knee OA pain.
Best for: rheumatoid arthritis and osteoarthritis
Glucosamine and Chondroitin
Neeraj Gupta, MD, an orthopedic surgeon at the Southern California Orthopedic Center, says a combination of those two supplements is a good idea. He recommends it to all his OA patients. The typical dose is 500-1,500 milligrams a day.
From hot and cold treatments, to electrical stimulation, to massage, learn more about the natural therapies that can help ease your pain and arthritis symptoms.