Black Seed Bitters with Moringa Detox Tonic - 6 Bottles of 16oz. Each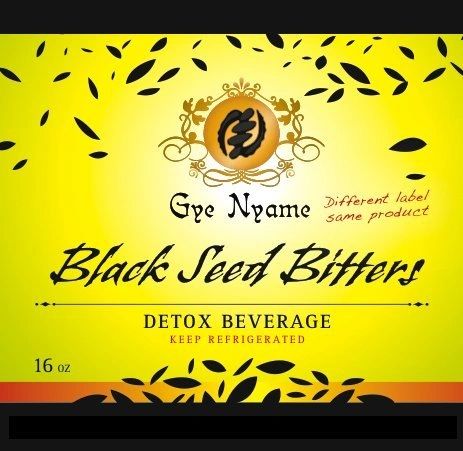 Black Seed Bitters with Moringa Detox Tonic - 6 Bottles of 16oz. Each
Our best-selling BLACK SEED BITTERS is a detoxifying drink with a distinct herbal flavor.

Made with Gye Nyame's own original formula of Black Seed and a select combination of medicinal herbs.
When the digestive and elimination

systems are not properly working to rid the body of this accumulating putrefactive build-up in the colon, the resulting toxins are then absorbed from the colon into the bloodstream, and are carried back into every part of the body. This process of self-poisoning is known as "auto-intoxication".
Abochie Bark, Acai, Aloe, Black Seed, Bois Bande, (Bark & Roots), Coriander, Cerasse, Cayenne, Chenney Root, Chicory, Dandelion, Flax, Garlic, Ginkoba, Ginger, Golden Berry, Honey, Kelp, Lemon, Maca, Mahogany Bark, Mauby Bark, Oregano, Sea
Moss, Sorrel